The Creative Process Illustrated: How Advertising Ideas are Born is a compilation of ideas from many advertising heavy hitters on their creative process, where their ideas come from, and what inspires them.  Simon Mainwaring a former W+K creative brainiac weighs in inside the covers about his processes, as well as on Fast Company about the book itself.  Below is a quick look at his article.  This book seems like something that should live on the coffee table of every agency!!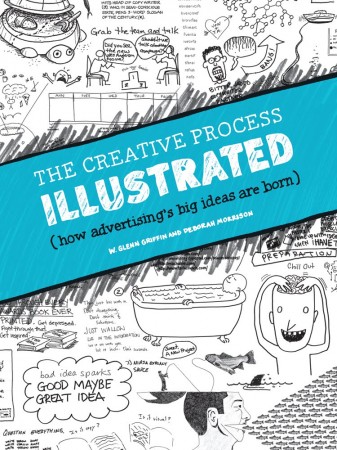 If there's one quality that defines Deborah Morrison, Phd and W. Glenn Griffin, Phd, it's a passion for creativity. It's a passion for ideas, how they are generated and how to put them in the service of marketing. So much so they asked a bunch of us to try and explain how we come up with ideas to help our clients. The result is a wonderful book that celebrates the diversity of approaches to the business of thinking.
The Creative Process Illustrated is full of hard won lessons and insights from ad vets (greats like David Kennedy, Glen Cole, and Hal Curtis) who have created some of the most memorable advertising campaigns. Plus at their site, Pure Process, you can see connect with leading psychologist Mihaly Csikszentmihalyi, ad star and the author of Fascinate, Sally Hogshead, Seth Godin (as if he needs an introduction), and Russell Davies, one of the smartest and most entertaining planners around, plus many others.
Read the article in entirety at: Fastmoney.com
Simon Mainwaring is a branding consultant, advertising creative director, blogger, and speaker. A former Nike creative at Wieden & Kennedy, Portland, and worldwide creative director for Motorola at Ogilvy, he now consults for brands and creative companies that are re-inventing their industries and enabling positive change. Follow him at SimonMainwaring.com or on Twitter @SimonMainwaring.
Tags: Advertising, creative work, Designspeaks, Graphic Design