Unless you've worked on a DRTV script before, you probably don't know what "DRTV" means. Direct response television is what the rest of the world calls an infomercial. What it lacks in creativity, DRTV makes up for in revenues, because media folks sell direct response media as more measurable–and thus more effective at getting returns–than brand media.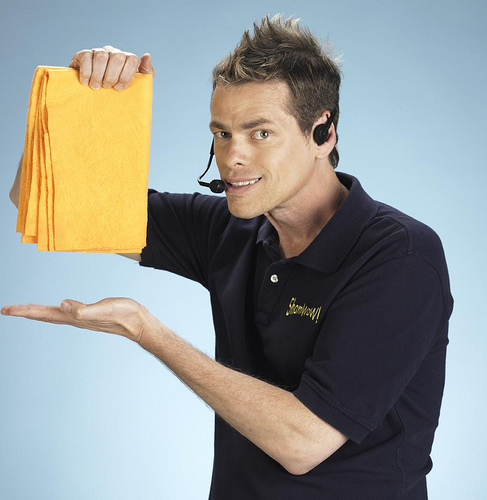 When you write a DRTV spot, you are dealing with clients who want results. DRTV "works," they have been told, and you don't want to be the one to blame if it doesn't. But have no fear! DRTV clients take comfort in mathematical formulas, and their expectations for your script involve a formula, too. A DRTV spot has a problem/solution at the beginning and includes product demonstration, customer testimonial, celebrity endorsement, product offer, and a call to action. All of these elements snuggle and mix inside a loose framework, which some DRTV people will inaccurately call the "idea." This "idea" is really a hook, a catchphrase or (at worst) a hat on a dog, and once you put all that in your script, there's really little left to write.
In a DRTV spot, problem/solution lasts about three and a half seconds. Witness: the next time you see an infomercial, notice how long it takes the screen to go from color, to monochrome, then back to color. That's problem/solution. "Remember boring, old-fashioned sit-ups?" as we see someone straining over the most difficult sit-up known to man? You can bet that shot will be in monochrome black and white. Then, a flash to color on the Ab-Rawker, with its red seat and shiny chrome handles. Infomercials offer quick solutions through material purchases. Upgrading the black & white telly to a shiny new CT-100 persists as a social norm in that prosperity narrative, and DRTV people can't do without this convention.
After the problem/solution, a product demonstration shows real actors using the product. These real
actors then testify to camera, gushing about the product's utility and their satisfaction. Don't be afraid of this, either. It is simply Microeconomics 101 setting out to prove itself. Don't fight it, just write it! (Fortunately for ad writers, it's less damaging to sell a Slap Chop using antique formulas than Healthcare policy reform.)
After product demonstration, you'll want an endorsement from someone of high esteem with the target audience. Enter Ed McMahan, or Alex Trebek, or an actor playing a real ITT Tech student, or a Ph.D.-licensed nutritionist with great buns as the case may dictate.
Finally, when you write the product offer, be extra careful of spelling and product points, because this is where clients will notice any errors or omissions. No, it's not uncommon for the call to action to contain a simple $xx for price, xxx-xxx-xxxx for the phone number, and www.gadget123.com for the Web site. Those space holders leave the script open for segmentation and tracking in different markets. But those are minor details to you, especially compared to making sure the trademarked "InstaRachet System™" gets in there.
Now, all you have left for your infomercial script is the writer's idea. Mind you, the DRTV spot is only 60 or 120 seconds, and once you put everything else in, there won't be much room for an idea, especially if it has to be trimmed to a 30 or 15. Besides, what your clients usually mean by "idea" is a catchphrase. Sometimes it's so minimal, the endorser provides it de facto: "Hi. Billy Mays, here." Or maybe it's a phrase one step removed from cliché: "When it rains, it scores! With the Gutter Gold water reclamation system, your water bills blah-bitty-blah." Or, perhaps, it will come from the client: "So easy, you can do it with one finger." As long as everything else in the formula is covered in the script, the "idea" will usually take care of itself. That way, everyone will be happy, the formula will be preserved, and you will get your money.
Later on, you can decide whether or not to own up to your involvement with Mr. T's reincarnation as a FlavorWave cooking enthusiast. "My taste buds is going wild!" Now, that's DRTV.
Written by KFann for 52LTD's Blog.  Thanks so much KFann!!
Tags: ad writing, Advertising, Advertising writing, creative writing, shamwow, tv ad