By Patricia Beasock, Talent Manager
Two words I dislike personally, and dislike even more professionally.  I try not to use them if at all possible.  Generally speaking… a term such as these is so absolute, it doesn't really end up applying often in the recruiting industry.  Instead, I am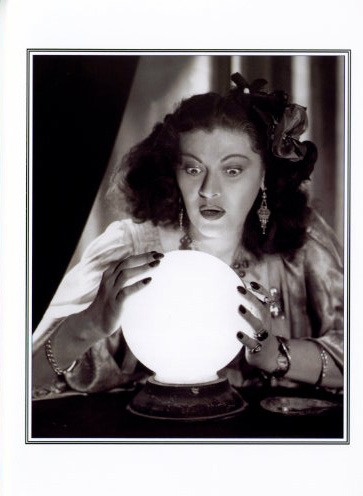 a big fan of reading tea leaves, tarot cards, crystal balls, rain dancing – whatever pops your cork.  Often times these methods are quite accurate; sometimes frighteningly so.
That said, in my line of work, when working with human beings (and I'm going to brake my own rule to say)- there is ALWAYS room for error, and we should NEVER assume.
The savvy networker, Liz Ryan recently wrote an article called "Underhanded Ways Hiring Managers Say They're Not Interested."  Basically it describes the various ways a hiring manager tells a candidate "no" without actually saying that word. In my opinion, her thoughts veer a little too near the "always" and the "never."
————————————————————————————————————————————————–
Here's where we differ:
Hiring Manager Says: "We're going to look at some other candidates."
Ms. Ryan's  translation:  Sometimes they tell you that you're one of three or five or some other number of candidates in the pipeline. That's fine. It's reasonable for a hiring manager to consider a number of people before making a hiring decision. The big red flag is when the hiring manager or the HR person says, "We're going to look at some other candidates."   Wait–you're going to go find some new candidates, after you've interviewed me? That's a sign to get out of Dodge. For whatever reason, you're not their cup of tea.
My take:  With unemployment being near or over 10% – the client holds the cards in this market.  If the position isn't a 911 fill (recruiter speak for " I need this person 2 weeks ago!") then they have the time, and the right – to be choosy with the talent pool that they have in front of them.
Hiring Manager Says: "We also have some qualified internal candidates."
Ms. Ryan's thought:  If you were a hiring manager, who would you look at first: the people who already work around you every day or strangers who responded to a job ad? You'd look at your internal candidates, of course. You'd talk to those people, and if you wanted to hire one of them, you'd never place a job ad. When you post a job publicly, you're proclaiming to the world that you've already ruled out whichever internal candidates applied.
That's why, when you're into a recruiting process and you hear, for the first time, "You know, we also have some qualified internal candidates," it's time to cut and run. If there really are internal candidates, it's a huge disservice to those folks to not make decisions about them before bringing in outside people like you.
And an ethical employer owes it to you and other external candidates to make up their dang mind about internal applicants before wasting your time. Something is rotten in the state of Denmark.
And Me: Especially in larger organizations, HR folk are often required to post internally, and those talent need to be vetted the same way that your resume does.  Sometimes internal candidates pop up at the last minute.  Don't sweat it – if you are the right talent, you'll get the job.
If the Hiring Manager Says: "You're still in the running."
Ms. Ryan Reads this as: If anyone from the hiring organization says this to you, that's your cue to bail. This is the professional equivalent of your sweetheart saying, "You're awesome, but I think we should both see other people, too."

I think: It's summer. People are on vacation.  More than one person needs to give buy in before a final decision is made.  Life is in session.  Budgets need to be approved and procurement is holding up the process.  Any number of things can illicit this response.  Our time frame and sense of urgency isn't always the same as the hiring manager.
If you hear: "We need to decide what kind of person we're looking for."
Ms. Ryan Thinks: This is the mealy-mouthed manager's way of saying, "Whatever kind of person we're looking for, it ain't you."
She's close. I think: This is a peeve of mine. I prefer that the hiring manager knows what they want before they begin the search. Sometimes once in the search – they realize that what they thought they wanted and what they actually need are 2 different things – so this makes complete sense.
And LAST, if the Hiring Manager says: "We're going to sit down and discuss all of the candidates next week."
Ms. Ryan understands this to mean: Imagine that you're a hiring manager with a big, expensive problem to solve. (If you didn't have an expensive problem, you'd never have gotten approval to fill the position.) Imagine that the perfect person shows up, someone you know could solve your problem and let you sleep at night instead of tossing and turning. Can you imagine saying to that person, the one you desperately want on your team, "We're going to sit down and discuss all of the candidates?"It would never happen. "We're going to sit down next week" not only means "We're in no rush to hire you" but also means "We don't mind telling you that none of us would burst out crying if you decided to move on to other opportunities."
I think: Again – a lot of the hiring process is a matter of timing.  Maybe they are bullshitting you. Maybe they aren't. Bottom line, and I tell talent that I meet this all of the time: Trust your gut, follow your bliss.  Have faith. Leap, and the net will appear.
—————————————————————————————————————————————————
As a headhunter, recruiter, placement advisor, and part time shrink, I have heard it all. Sure – sometimes the client or HR manager will run you in circles instead of giving you a firm "thanks but no thanks". For me, I prefer the direct approach. It's in my east coast blood -I can't help it.  Unfortunately, not everyone has a broken filter like me and they end up taking the less direct approach.  I'm not saying that Ms. Ryan is completely off base on her thoughts above…. I am saying that there are two sides to every story.